At about 2 pm on Saturday, 3rd of November, ticket confirmed and ART X magazine in hand, I hurried towards the entrance of the Civic Centre building, eager to experience ART X for the first time. There, I paused. What was that colourful thing in the distance? It was 'Lagos Drawings' by Karo Akpokiere, a fusion of art, sound and technology, one of the interactive projects curated by A Whitespace Creative Agency.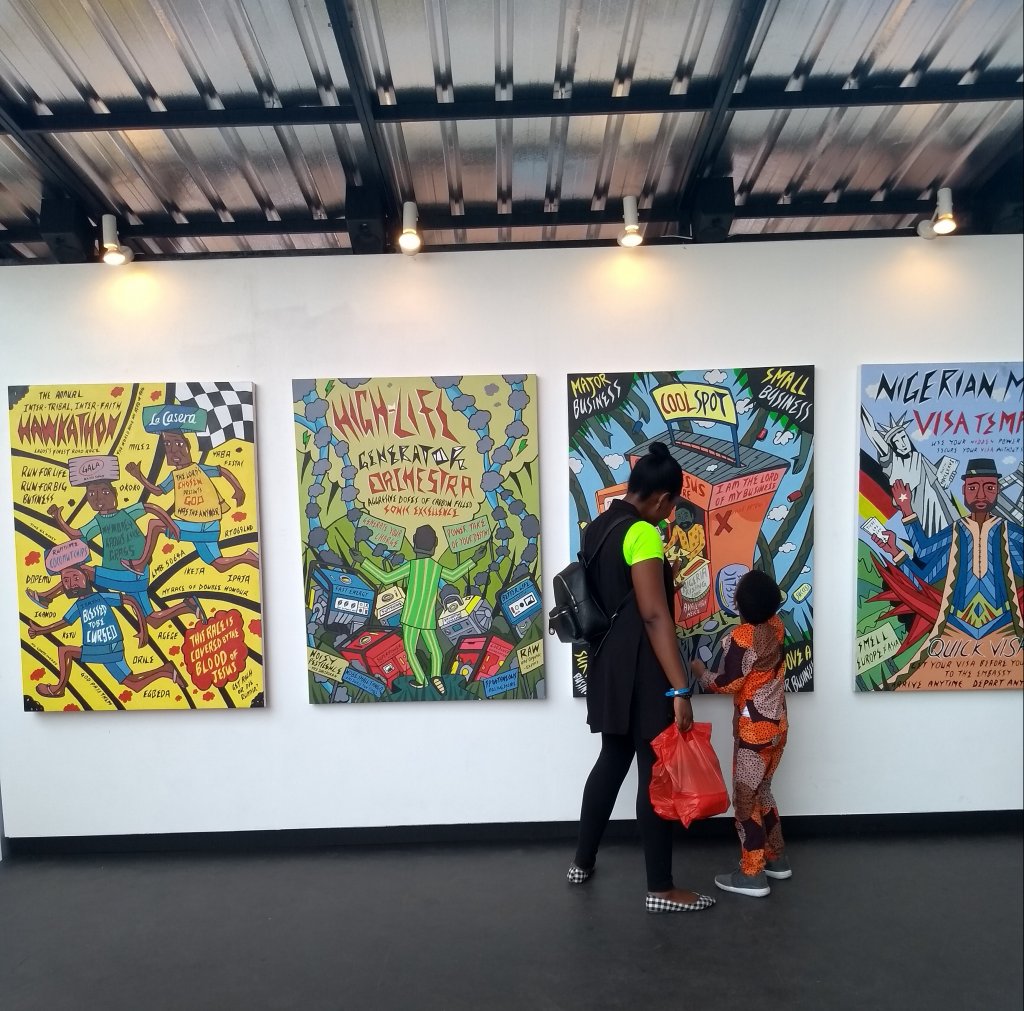 A touch of the painted gala sellers on the Hawkathon section led to a chorus of "Buy Gala here" and other roadside noises. A visitor placed her hand on the painted generator in the Highlife Generator Orchestra, and our ears were immediately filled with the rumbling noise of different generators. And when my hand touched the image of the Nigerian Mystic Visa Temple, we were regaled with sounds of the Visa prophet advertising his business. The feeling of awe and delight that these interactive installations inspired in me set the stage for the rest of my ART X experience.
On the left side of the 'Lagos Drawings' project was 'Battle Field' an art installation by Habeeb Andu, the winner of last year's ART X  prize with Access Bank.
After having my fill of these installations, it was time to enter the Civil Centre building, and there, just inside the entrance, was Ben Enwonwu's masterpiece, 'Tutu', which had been loaned to ART X by Access Bank. I feasted my eyes on the portrait which was on display in Nigeria for the first time since 1975 and wondered about Tutu, this princess whose gentle beauty shone from the canvas.
On the other side of the hall was a picture of a wind sculpture by Yinka Shonibare OBE. The sculpture looked larger than life, delicate and powerful, and left one wondering at Yinka Shonibare's imagination, his creativity, his skill. Moving further into the hall, my attention was caught by an Ankara clothed figure standing on a dais. Was it a boy? But where was his head? Oh. It was another of Yinka Shonibare's sculptures, 'Trumpet Boy'.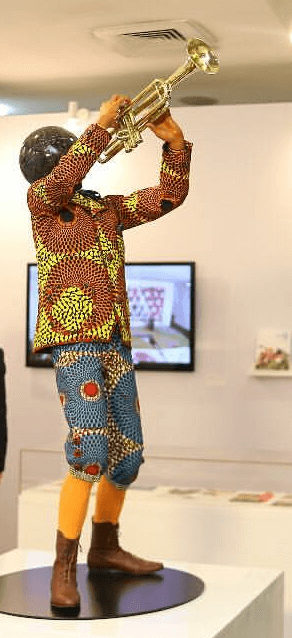 Behind it were photographs of Yinka's other installations, as well as a flat screen television showing documentaries about his works and interviews with him. Of course, yours truly sat down in front of this television, grabbed a headphone and listened as Yinka spoke about his art, his life and his inspiration.
Almost one hour after walking into the building, it was time to head upstairs.
There, on the landing, was another amazingly creative fusion of new age technology and art, created by the winner of the 2018 ART X prize with Access Bank, Bolatito Aderemi-Ibitola. This award-winning installation, titled 'Scraps From Mama's Floor' was a multi-sensory and multimedia project that incorporated scenes from Balogun market and scraps of Ankara. Studying the scraps of Ankara and scenes from Balogun market, I was amazed to notice myself in the artwork. The artist explained that the installation is a performance piece which uses cameras integrated into it to track viewers' movement and position and incorporate it into the artwork. So when a viewer moves from point A to point B, she is presented with images of herself in point A combined with scraps of fabric and tableaus from Balogun market.
The next place to go was further upstairs where the amplified sound of a little girl's voice was coming from Olalekan Jeyifous and Wale Lawal's virtual reality installation, 'Mad Horse City', another interactive project curated by A Whitespace Creative Agency. This project explored Lagos in the year 2115, based on the current rate of pollution and social mobility in the state. It consisted of a graphic novella, a series of animated vignettes describing life in the futuristic Lagos, and a virtual reality headset.
The graphic novella, Ominira, told the story of a Lagos in which people were born in castes, with the upper-class dining in glass restaurants underwater, the lower class scavenging for food, and the lowest of the low (called fruits), born with superpowers and a fern-shaped birthmark on their foreheads, being mutilated and killed. It told the story of a fruit girl and her protector, two scavengers from a fishing community, who tested the boundaries they'd been given in their starkly unequal society. An animated version of this story was also playing on the screen.
A visit to the VR room led to me wearing a VR headset and entering into a picture of futuristic Lagos. It was a picture of a train in which people sat in varying positions, breathing through gas masks due to the heavily polluted air. Plants grew in every corner of the train, positioned to aid in purifying the air. If you turned your head this way and that, you'd see different corners of the train, and you could look from the roof of the train above your head to the bottom of the train under your feet.
Could this really be our future?
After 'Mad Horse City', the next stop was the main exhibition, where 18 galleries displayed artists' works in their various booths. The booths were filled with paintings and sculpture from talented artists, some of whom were there, standing beside their works, eager to give clarifications to curious visitors. These works ranged from plasma cut metal drawings to digital prints to wooden sculptures and even to masks and mixed media installations.  Visitors moved from booth to booth, asking questions of artists and marvelling at the skill and talent that was so exquisitely showcased in that space. Some of these works had already been paid for by awed festival attendees but some were yet to be bought.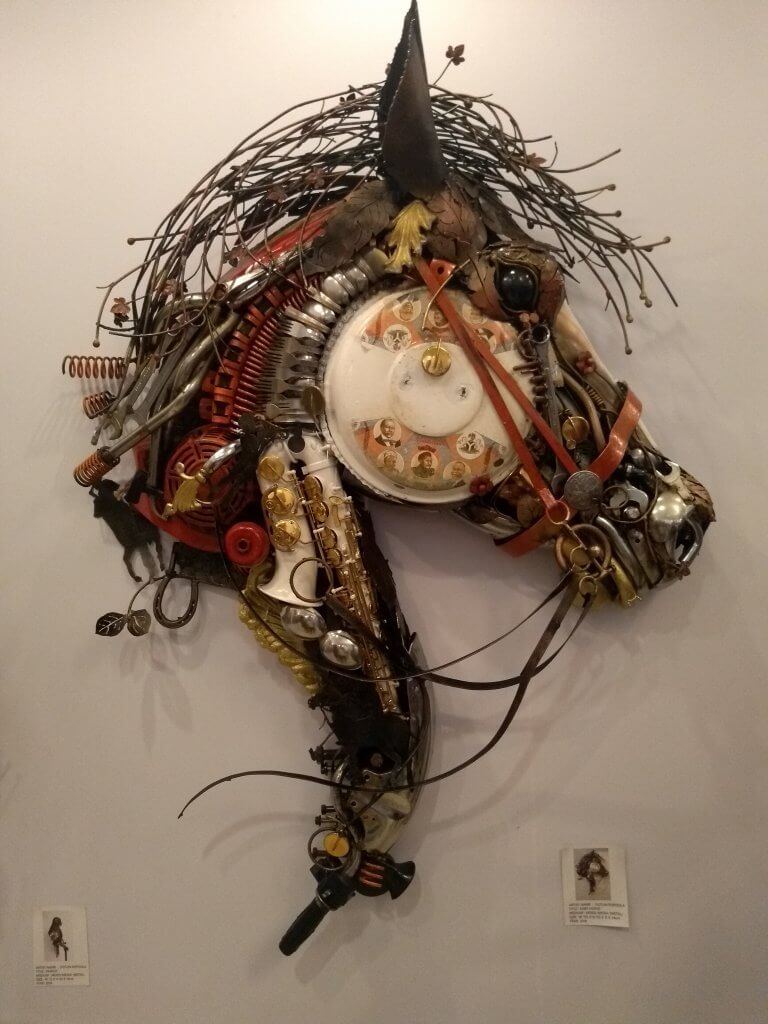 I asked Florence Poirer-Nkpa, an artist exhibiting mixed media art in the SMO contemporary booth, how she knew when an installation was finished and ready to display, she replied that her works were never finished, there was always something that could be added.
Coming out of the exhibition space, too late for the ART X talk which had already begun, the next place to visit was the live art studio where an artist, Muyiwa Akinwolere was creating an installation titled 'The Eyes Have It'.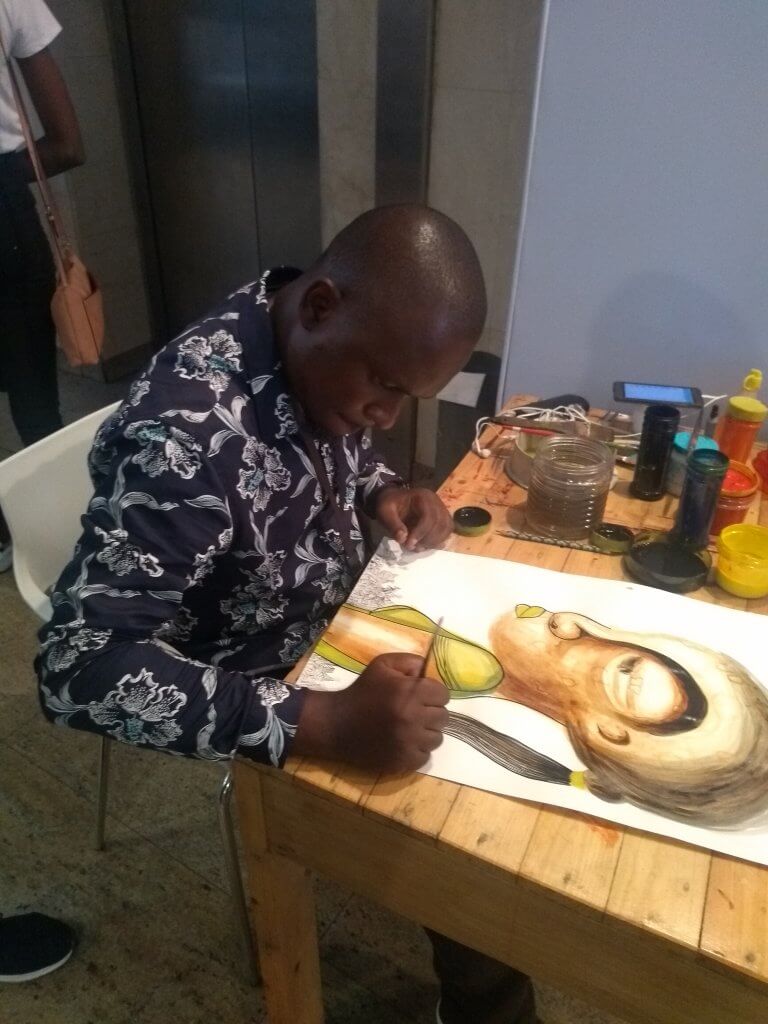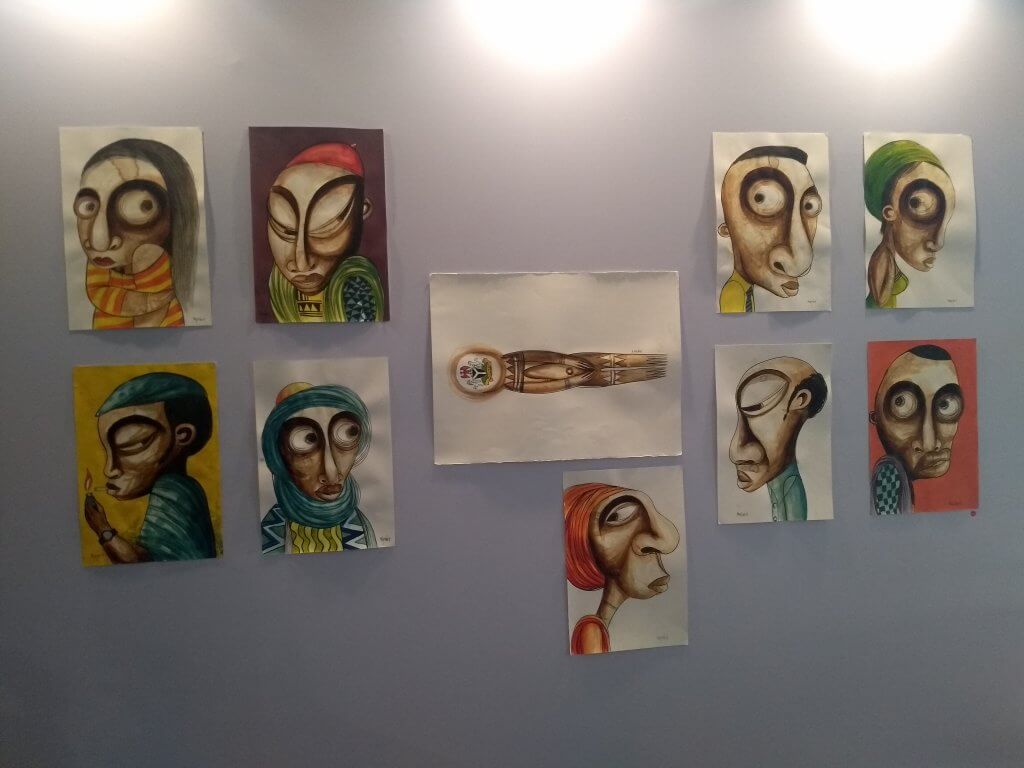 The work was intended to be a commentary on Nigerian political landscape, with Muyiwa creating drawings of lawmakers using antique ink on paper, and arranging them in such a way that each figure had his eye on the mace which was in the centre of the installation.
Visitors stood around and watched him work, the sure movements of his hands, his furrowed brow.
Isaac Emokpae was also supposed to work on his stained glass pieces in the live art studio, but this visitor did not experience it because it was time to go home.
So, after a short stop at the interactive panel to listen to the music of Lagos, this art lover was out the gate, heart full, smile wide, grateful for the sheer breadth and variety of contemporary art I had just experienced.