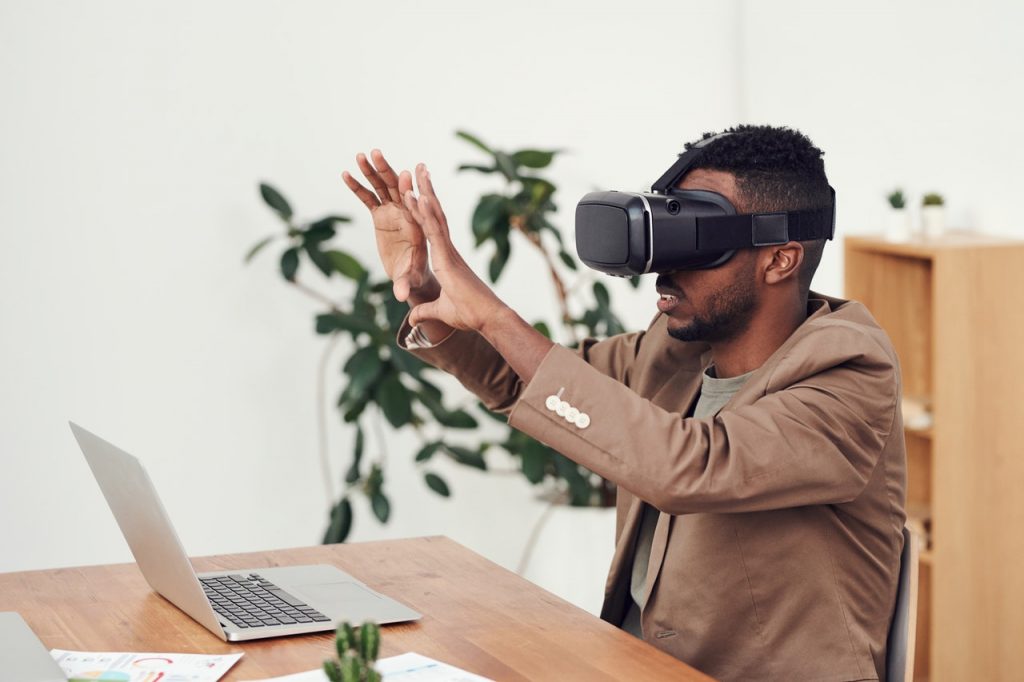 The exponential growth of technology in the last decade has greatly affected how we perceive reality today. The use of computers, mobile phones, and other technological devices has dropped the world in our palms while exposing us to a sea of endless possibilities. Now we can dare to dream of a world in which we can visit exhibits at almost any museum, while stuck in traffic and discover new artworks from various artists on our mobile phones, from the comfort of our couches. 
This is fast becoming a common reality as artists, curators and auctioneers have strengthened their digital footprint to stay connected with their audiences. The Covid-19 pandemic and attendant social distancing measures have emphasised the importance of a strengthened digital connection due to the closing of venues for events and exhibitions.
Immersive or extended technologies (XR) give reality new meanings: from Mixed Reality (MR) which allows the digital world and real-world objects coexist and interact with each other in real-time, to Virtual Reality's (VR) fully immersive 3D environment in which people can walk around and interact with space and with virtual avatars, and to Augmented Reality (AR) which overlays virtual information onto the user's real-world environment. All of these accessible via electronic devices.
The recent turn of events has seen artists all over the world explore these XR mediums to express their art while museums and galleries have also been experimenting with virtual mediums to share content with their audience.
In Nigeria, Rele Gallery, a contemporary gallery in Lagos Nigeria ran a virtual exhibition of purely sculptural forms from May 2020 to July 2020 titled "Sculpting the City", the sequel to Material Times. The exhibition was physically mounted in the gallery but allowed the audience access virtually. Sculpting the City was lauded as the first of its kind in Lagos, Nigeria, leveraging VR to help art audiences experience contemporary African art from anywhere in the world. 
Pre-COVID19, in 2018, Nigerian-born Brooklyn-based artist and designer, Olalekan Jeyifous and Wale Lawal, a Nigerian Virtual artist collaborated on a project titled "Mad Horse City"– a series of animated and written illustrations exploring life in a futuristic Lagos in the year 2115. The multimedia experience consists of a graphic novella, a series of imaginative vignettes, and a set of virtual reality (VR) environments.
The VR environment consisted of an image of a train in which passengers sat in different positions, breathing through gas masks, plants placed in strategic positions to aid purification of the air. Viewers could see different corners of the train with a tilt of the head; They could look above their heads from the roof of the train to the bottom of the train under their feet, like they were also on this train in dystopian Nigeria.  
It is expected that with time, the direction of innovation for XR will make it easier to interact with the medium,  thanks to increased download speed, the use of additional peripheral devices and technologies like compatible VR bodysuit, voice recognition, and hand tracking. 
The evolution of XR into a more intuitive process that allows seamless experience will enable curators and artists to offer more immersive virtual galleries and directly interact with audiences from across the world. Perhaps user-generated platforms may even emerge, allowing audiences to participate in exhibitions and auctions in novel and interesting ways. Experiences can also be recorded and preserved, allowing generations unborn to fully experience art exhibits that they otherwise would only have seen via video or photos.
Like Rele's Sculpting Cities, artworks and experiences can transcend borders in real-time; users would be able to experience an exhibition, rather than just watch, in Rio de Janeiro for example, right from the comfort of their room in Abuja.
The "bizarre" Sci-Fi future obtained only in Hollywood productions where XR medium changes from a fancy accessory to a daily experience is here. The changes necessitated by the Covid-19 pandemic have no doubt accelerated a major paradigm shift, bringing us closer to advanced immersive digital platforms for performing and presenting art to a global audience.