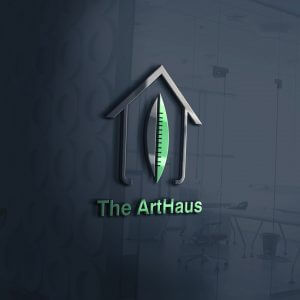 The ArtHaus is a multidimensional, multifaceted Art Society, Art School and Art Promotion Team, rolled into one.
At its core are youth from all walks of life, bound by a common passion for all things art.
At the ArtHaus, our mission is to discover, encourage, develop and promote art in as many individual forms as possible, whilst simultaneously creating a unique synergy between various arts.
---
Let's meet some of the guys at The ArtHaus
NAME: Alagbe Temi (Music)
PHONE NUMBER: 08083330087
YOUTUBE CHANNEL: Temi Alagbe
EMAIL ADDRESS: Alagbedaniel@gmail.com
IG HANDLE: @_sain_t
FACEBOOK: Temi Alagbe
ART: Singing and Instrumentation
ARTIST STATEMENT:
I've been playing the Guitar for 10 years now because I like the sound of the instrument, but over time, the guitar has become a form of therapy through which I express my emotions. Each note, each word, is an expression of how I feel. I love Rock because of the musical intensity of the genre. I also love doing song covers because it puts me in the shoes of the artist and helps me understand the emotion of the artist at the time of the songs.
ARTIST BIO
Temi is a teenaged singer and Mechanical Engineering student of Afe Babalola University, Ado-Ekiti (ABUAD), Ado-Ekiti (ABUAD). He's a Guitarist who specializes in R'n'B, Acoustic Rock and Indies Pop, amongst other genres. His musical inspirations are Ed Sheeran, Johnny Drille, and Sungha Jung.
---
NAME: Oniha Robert Agbonighale.
PHONE NUMBER: 08098589788
YOUTUBE CHANNEL: The ArtHaus Nigeria
IG HANDLE: robertonihaart
ART: Visual Art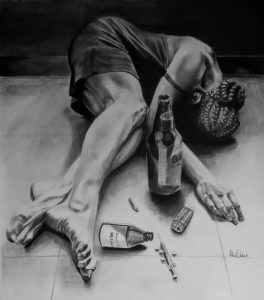 STATEMENT:
I'm not very good at expressing my ideas and feelings verbally, so art is my way of doing so. I try to use my art to talk about important issues in today's society like drug abuse and depression and also appreciate the beauty of black skin. I plan on making more works talking about issues in Nigeria and in the world in general.
ARTIST BIO:
I am an artist from Edo state, albeit raised in Lagos. I always loved Art as a kid, but eventually dropped it as a subject so I could study engineering. The artist who liked math. I only started to take art seriously after my secondary school, when I was stuck at home for a year. This was when my parents introduced me to my Art mentor, Mr. Kunle Adewale.
He, with the help of others, furthered my love and development of my Art – and I've been drawing to keep my self alive ever since. Hopefully, one day, I'll start painting too.
---
 NAME: Sam Yakura (Spoken Word)
PHONE NUMBER: 08176628556
YOUTUBE CHANNEL: The ArtHaus Nigeria
EMAIL ADDRESS: yakurasamuel353@yahoo.com
IG HANDLE: @samuelyakura
FACEBOOK: Samuel Yakura
ART: Spoken Word
STATEMENT:
ARTIST STATEMENT:
We come from a culture that has been deeply rooted in patriarchy. A culture where not just the roles but the strength of the man is bloated in ways that has overtime made even him a victim of his weaknesses. In turn, this overemphasized ideal becomes a perspective that trains him to devalue the place of the woman in his life and her potential to support and sustain him in ways only her capacity was made for.
Say Something, a piece delivered through the art of Spoken word Poetry, is a 60 second incitement that attempts to remind us of the need to bring balance to this narrative, this age-old ideology that has worn out the man by teaching him to be greedy with his struggles (just one of the side effects), thereby crippling the place of the woman, by beginning with the simple step of breaking the silence.
ARTIST BIO:
Samuel Yakura is an all-round Art Enthusiast who finds expression through the Performing Arts such as Spoken Word Poetry and Music (and Building Engineer based in Abuja). An experienced literati, he has bagged a few accolades to his name including ALS (Abuja Literary Society) Slam Champion, ALS Grand Slam Champion, OXFAM Slam Champion. Amongst many stages, he's also graced the Dike Chukwumerije's Night of a Spoken Word.
He believes Spoken Word poetry is today's evolution from page poetry to engage Society's narratives in ways only the Arts has potential to, and he's committed to giving his voice to that cause.
---
NAME: Andrew Odiase (aka Scrappy Coco)
PHONE NUMBER: 08088087880
YOUTUBE CHANNEL: The ArtHaus Nigeria
EMAIL ADDRESS: andrewolise3@gmail.com
IG HANDLE: @dre.crypt
ART: Dubstep
View this post on Instagram
ARTIST STATEMENT:
Dubstep is a dance form that involves a complex mixture of beats and moves to create a beautiful pattern. Essentially, the dance form integrates pops and locks, waves, glides, and so much more into one bodacious dance genre.
ARTIST BIO:
Andrew Odiase is a teenaged dancer who specializes in dubstep, but is bedazzled and intrigued by other dance forms. Presently a 300lvl student at Afe Babalola University, Ado-Ekiti (ABUAD). Still acquiring skills in other dance genres, his interest is to push dance to an entirely new level.
---
NAME: Joy Adedoyin Fashagba
PHONE NUMBER: 08172892314
YOUTUBE CHANNEL: The ArtHaus Nigeria
EMAIL ADDRESS: joyfashagba@gmail.com
ART: Page Poetry
DAWN

I am awake!

To the sound of  bird whistles,

A signal

For the Lagos hustlers to kick off another day.

I lie still in bed,

Listening,

As the rhythm of the streets

Lifts my spirits, calling my feet to join

Íjó àárọ – the dance of the morning.

My pulse quickens in anticipation;

I can almost touch them now,

The things that my heart has longed for.

I do not know what today holds;

But I can already tell:

Today will be better than yesterday.
ARTIST STATEMENT:
My poetry focuses on the human psyche and behaviour and is motivational, centered around helping people stay focused, and live great lives.
I also write to suggest ways to deal with life's many twists and turns, to encourage people not to focus so much on being perfect that we forget to live and enjoy life, and to remind us to make every moment of our life worthwhile, so we can exit this world fulfilled, having made an impact and influenced lives positively.
ARTIST BIO
Joy Adedoyin is a Media and Communications Student at Afe Babalola University, Ado-Ekiti (ABUAD) (ABUAD), as well as a freelance model and a makeup artist.
I write for fun, and I'm inspired by movies, songs, news and even just day to day activities. I love to listen to music while writing.
---
NAME: Iminabo Davies
PHONE NUMBER: 09027905506
YOUTUBE CHANNEL: The ArtHaus Nigeria
EMAIL ADDRESS: iminabodavies@ymail.com
IG HANDLE: @writer_99
ART: Creative Writing (Fiction)
VAST

'Will this sun ever set?' He wondered.

He was a scholar once upon time, a bright young mind in the pursuit of knowledge. Then he woke up here, bound by a chain that extended into the endless depth of the ocean, forever suspended in the depths, seperated from air he no longer needed to breathe by just over an arm's length.

He had long since stopped struggling, the chains barely budged and the water never even shifted, as if his presence was far beneath it's notice. Time held no power here, he had been here for decades, he was sure, but not once had the sun shifted from it's position in the blurry sky. And he was alone here, there were no fish that swam by or birds that passed over head. The place was still and quiet, never disturbed. It was limbo, it was torture.

'But what did I ever do?'

He stared blankly at the blurry sun through the water, his eyes were calm, blank. He had long since stopped needing to blink. The thought however crossed his mind a few times in the first few months and he came to the conclusion that it didn't matter. Nothing did.

The chain around him shifted, pulling him an inch deeper.

A metaphorical pit formed in his stomach. This always happened, whenever he gave in, whenever he accepted his helpless position. The chain would pull him, just slightly, closer to the dark unyielding depths. He hated it and with all his might he fought against it, fought to stay afloat, but his strength to fight was waning. His reasons to stay reducing

'Maybe I should just let it take me.'

It was an errant thought, but it appealed so much. Whatever waited for him in the depths was surely better than this pathetic existence. He never shifted during his meditation, he couldn't remember the last time he had moved his body, only his hair floated in the forever still water. It was probably time to give up anyways, if there was something for him here, he had no clue where to start looking.

The chains tightened around him, as if responding to his thoughts. At his point, he wouldn't be surprised if they were. Then they began to pull him down. The man began closing his eyes, ready for whatever fate awaited him. 'It was a bit sad though,' he thought, 'I'd have liked to see what was on the other side.' Giving the sun one last glance, he resigned himself.

Movement caught his attention out of the corner of his eye, just before it closed.

And for the first time in what must have been years, he turned his head to look. The sight before him, brought life back into his cold and empty eyes, and they widened. At that moment, his chain halted.

For the first time, there was someone there with him in that vast and empty ocean, it was another man. This man however was in very different straits, because he was bound by no chains and was steadily swimming to the surface.

It was as if they were separated by an invisible plane. The man swam and the water around him shifted and rippled, but those ripples never reached him, even though they weren't that far apart. As if they were in different dimensions, but able to observe each other for some reason.

Baffled the chained man stared at the free man in awe.. He was slow, but he methodical and consistent; taking it one stroke after the other and never stopping. His eyes were focused on only one thing, and that was the sun. The chained man had no where this other man came from or how long he had been swimming, but he clearly didn't notice someone sinking to their probable doom, that's how focused he was.

Stroke after stroke tthis man continued moving, getting closer and closer, as the chained man just watched. And when he finally made it to surface, put his hand through the water to the other side, he was simply gone. He vanished, the water not even rippling to show that anything had happened.

'Was that… Did I imagine that?'

The man began to question what he had just seen, whether it was real or not. Then a shiver went down his spine and suddenly the ocean was brimming with people.

All around him, men and women, boys and girls, all chain like he was. Some were higher up in the water, closer to the surface; others were deep below, and some being pulled further and further down. Above him some stayed, suspended between the water and the surface, basking in the rays of the sun, but chained none the less; below him were other almost completely hidden by the darkness of the depth, only small parts of them could be seen before they would eventually disappear. I was only a matter of time for both.

And at the same time he saw some swimming for the surface. They were very few and some still had a long way to go, but they did not waver. Lost in the awe of it all, he couldn't help but blink in surprise. Once his opened they were all gone, he was alone once again in his watery prison.

He was further now from the surface than he had been before, the depths that much closer. But for the first time in a long time, he was strong. Illusion or not, what he had just seen had given him hope and renewed his vigor. Whether he would be able to break free, he didn't know, but he'd be damned if he gave up trying. He was ready now to fight once more and he began to strain against the chains

'I've got a taste for some air again.'

In the ever silent depths of the ocean, the metal groaned.
ARTIST STATEMENT:
I'm an amateur writer, who writes mostly short stories and poems focused on helping people become better versions of themselves. I write to challenge people's thinking and to help us realize and correct errors in our behaviours towards each other.
Everyone has so much potential, and many times all we need is a little encouraging nudge to push us in the right direction – which is something else I hope to provide with my write-ups.
I also write to share life lessons, drawn especially from personal experiences.
ARTIST BIO:
I'm a teenaged writer, and Medical student at Afe Babalola University, Ado-Ekiti (ABUAD), Ado-Ekiti. I consider myself a fairly average, and boring person. Like most writers, I'm an introvert and prefer to spend my time with myself, either with a good book or working on one of my longer stories. I love music, though I don't have many preferences besides rock and trap (which usually contain the most truthful lyrics in my own opinion). I also enjoy playing games and watching anime.