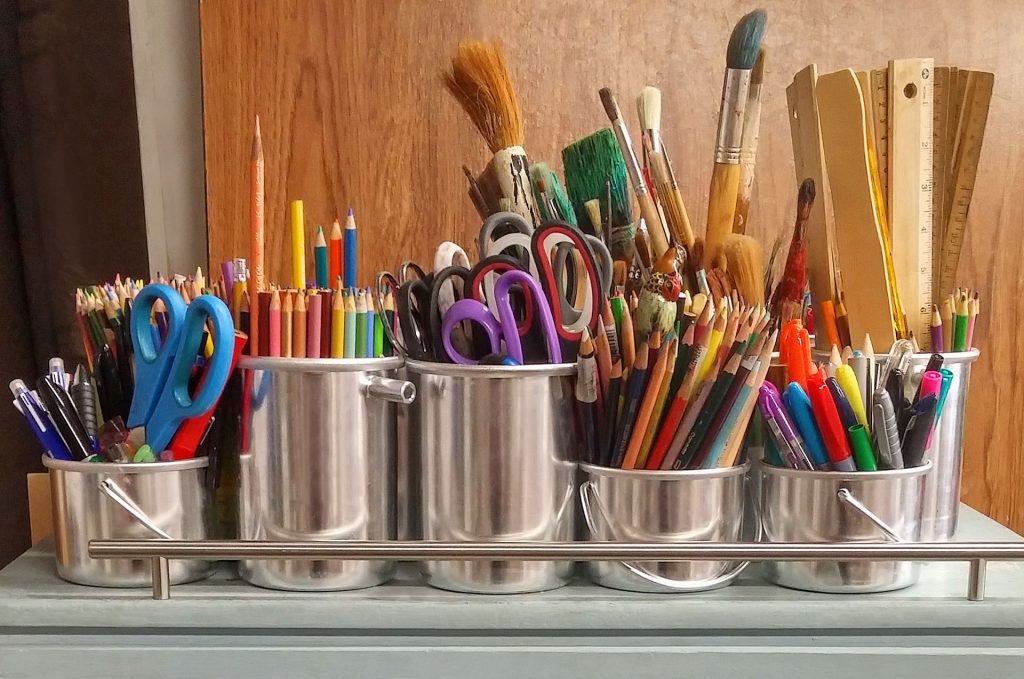 When starting out as an artist, sourcing for art materials could be challenging. From avoiding buying fake materials, to buying just what you need, here are 3 tips to make your art supplies purchase most efficient:
1. Get recommendations from other artists
The power of community as artists cannot be overemphasized. Asking for recommendations from your colleagues, is a sure way to save yourself tons of stress when buying art materials. You really do not need to learn from your own mistakes when your colleague has already paid the price. A sad experience in an artist's journey, is having to expend limited resources buying materials that end up having no utility value to you or buying the wrong materials. Hence why asking for recommendations before buying anything is a great hack to avoid touching stories. Your colleagues can help recommend the exact type of brushes, stretchers, lens, grade of paint, etc. necessary to achieve your desired result. Kurating has a community where you can always access help when you need to. Join here.
2. Use primed wood
If you want your paintings to stand the test of time, then primed as opposed to unprimed wood is best to make your work durable. This is a great hack because primed wood prevents wormwood from eating into your stretchers. Wormwood infestation is something you certainly would not want in your collection. These days several stores sell pre-primed canvasses. You can buy these instead of priming wood yourself. This saves you a lot of time and stress. It's up to you but it has been reported that priming your canvas if not properly done, could affect your wood texture, making it become hard and may make your pencils wear out fast when you sketch. Depending on your specification, primed wood today costs between ₦3,500 – ₦7, 000 per yard.
3. Look out for the paint grade
A pro tip is that the higher the grade number, the better the paint. Paint brands such as Mary's, Ticker, Winter and Newton, and Amsterdam are good paint choices. Amsterdam is reportedly particularly good for white acrylics. Ensure you check the that safety standards, meets up with America's ASTM recommendations. This is to prevent you from inhaling toxins.
Stores/Markets to get Art Supplies
Artmat.ng – one of the advantages of buying art materials from Artmat.ng is that they offer same day delivery. Their stock of sketchbooks, canvases, paint brushes and paint are fine and can be delivered to you on the same day you order. Depending of course on certain variables.
Art Stretchers and Canvases – Art stretchers and canvases are a good store to patronize for your easel and primed canvas purchases. They stock them in different shapes and sizes.
Aroyola Market in Lagos island/the camera section in Arena Market Oshodi, both in Lagos, Nigeria are good places to shop for photography equipment
Share Shop Ship is a non-Nigerian based but Nigerian owned company that stocks photography equipment. The advantage of buying photography equipment from Share Shop Ship is that they have a wide range of options that may be unavailable at the local markets, and they also ship directly to you. You might also find that you get to save a couple bucks, especially when you make large purchases.
A special shout out to Yewande Ambeke and Omoregie Osakpolor for their invaluable contributions to this article.
Disclaimer: with respect to the businesses listed above, this is not a paid ad and Kurating bears no liability for any transactions with any of the businesses mentioned here.