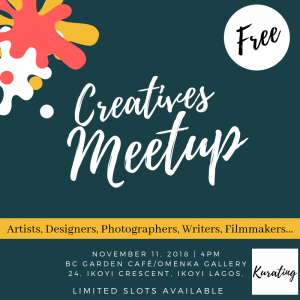 You are invited to join us at the first Kurating's Creatives* Meetup! Our purpose? To foster relationships among creative people. You'll connect with other talented professionals with skills that complement your own. The event is going to be at BC Café in Ikoyi, at the beautiful Omenka Gallery with games, no-pressure networking, and music, all this for free!
Join us for an evening of talented creatives, amazing art, and more!
In case you are interested in food and drinks, check out the Cafe's menu here – – https://bcgardencafe.com/menu/ | You can call the numbers on the page to pre-order.
*Creative: Anyone who is actively & directly involved in the following industries/fields and providing these services to others: Print – TV – Radio – Internet – Video – Photography – Artists (All forms) – Writers – Fashion – Marketing, Advertising & Public Relations.
NB: Free Drinks for the first ten people, so be sure to come early.
Date: 11th November 2018
Venue: BC Garden Cafe/Omenka Gallery | 24, Ikoyi Crescent, Ikoyi Lagos
Sponsors:
The Kurating Team