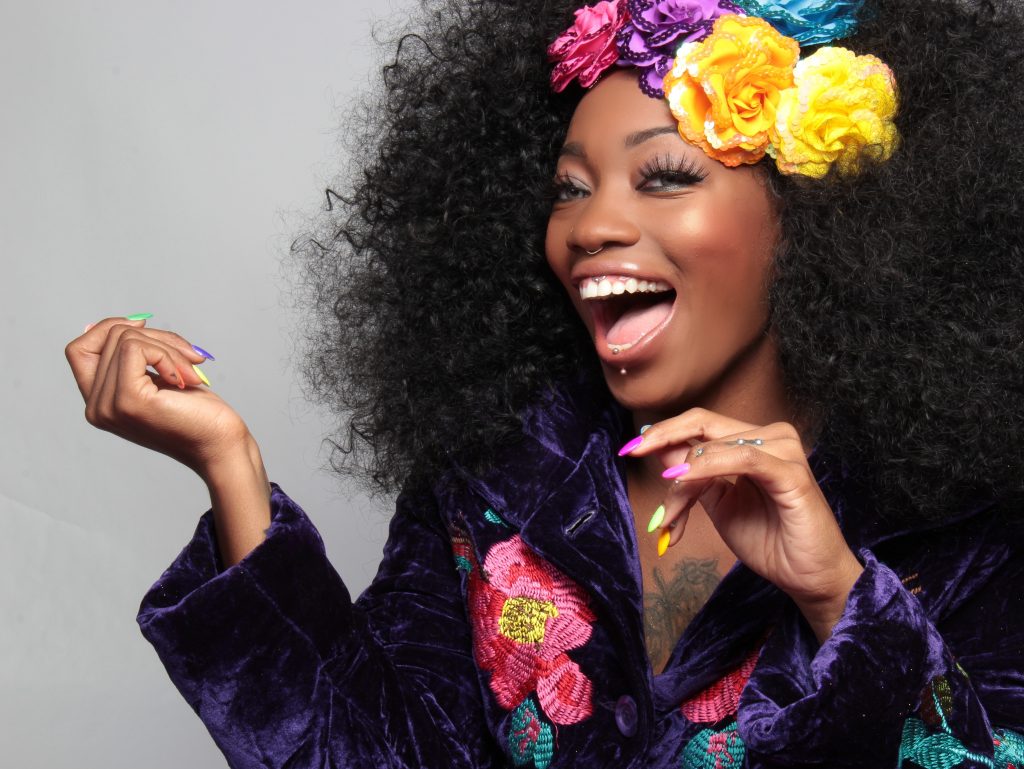 Modupeola Fadugba holds degrees in Engineering, Economics and Education. She is a self-taught visual artist who uses themes of games and play to describe social and developmental concepts within the Nigerian context.
Claire Idera has an academic background in architecture and fashion. She is a self taught visual artist whose work borders on representation for black women. She explores themes of identity and womanhood with her work.
Osaru Obaseki, a mixed media artist who works mainly with sand, bronze and acrylic. She is a descendant of the ancient Benin kingdom, and she uses her work to export her heritage in a modern form.
Ayobola Kekere-Ekun has a strong educational background in the arts. She is a contemporary visual artist. Her work often explores subjects connected to gender, mythology, power and the human condition in a multi-layered way. She explores the subtle interplay of time, space, gender, power and social structures in contemporary society. Ayobola works predominantly with a technique known as quilling, in which strips of paper are individually shaped to create forms.
Haneefah Adam is a self taught multidisciplinary artist. Her work typically explores issues related to identity, culture and representation in society, with her personal experiences and observations serving as a focal point.
Anita Abada is a fimmaker whose work focuses on telling impact driven stories, especially stories centered on Gender Based Violence. The aim of this is to educate, inform and seek redress for GBV victims.
Taiye Idahor has an educational background in fine arts. Her work explores the concept of identity and women using "hair" as her visual language. While exploring themes of beauty, the environment and globalization, she examines how these factors build the woman's identity in within the Africa context.
Data Oruwari is a contemporary sacred artist who creates unique iconographic representations of afro-spiritual identities. Her influences include the African mythological cosmologies, the visionary art movement, byzantine iconography, and natural law
Nengi Omuku has an educational background in fine art. She creates anthropomorphic forms, which float across surreal landscapes. Her work aims to encourage humans to look beneath the surface using metaphors and themes that explore race, identity, mental journeying and mutual belonging.
Jekein Lato-Unah has an educational background in law. She is a visual storyteller who uses her art to champion the advancement of women. Her work aims to celebrate women, and call out the oppression of marginalized groups, objectification of women and speak on social constructs. She uses her work to communicate social, political and cultural issues in an evocative manner.
Etinosa Osayimwen Yvonne is a visual artist who works with various art forms including photo and video. The primary focus of her work is the exploration of themes related to the human condition and social justice. She employs storytelling to raise awareness on social issues.
Elogbosa Osunde's work revolves around mental health, sexuality and the psychology of identity and interpersonal intimacies. Her visual art work is experimentative. Employing the use of fiction, her work challenges reality by bending time and space to achieve a surreal overall effect.
Marcellina Akpojolor has an educational background in art and industrial design. She explores themes of femininity, personal and societal identity and gender issues in contemporary society with her work. Her main medium is discarded pieces of Ankara fabric.
Mode Aderinokun is a multidimensional artist whose educational background is in animation. She is also the founder of STUDIO OF MODÉ an upbeat gallery in Lagos.
Yagazie Emezie's work focuses on stories surrounding African women and their health, sexuality, education and human rights. She covers stories on identity and culture, social justice, climate change and migration. She uses photography and sculpture to construct visual critiques of Nigeria socio-political state.
Tonia Nneji has a bachelor's degree in visual art. Her work explores the relationship between trauma and the female body. For her work, her personal experiences are a muse through she calls out a culture of suppression and silence around women's physical and mental health, body autonomy and sexual harassment.
Ebun Akinbo is a visual artist and documentary photographer, she has an educational background in sociology. With her work, she explores narratives bothering on culture, identity and migration.
Rahima Gambo has educational backgrounds in journalism, gender, social policy and social sciences. She is a multimedia artist whose work engages the tools of documentary making and an expanded visual language that includes drawing, film, sculpture, installation and sound.
Olawumi Banjo has an educational background in entrepreneurship. She is a self taught visual artist. She paints expressive wire figures, which explore deep ideologies by portraying everyday social and individual realities which confront humans. Her art is a response to hidden realities which confront humans individually and collectively across all demographics
Ayo Sanusi has a Bachelor's degree in Studio Art and Economics. She is a visual art whose work seek to highlight social issues using lighthearted drawings and illustrations.
Yewande Ambeke has an educational background in Pharmacy, she is a visual storyteller whose medium is mostly with paint. The predominant theme for her work is calmness.
Jessica Soares has an educational background in marketing, she is a self-taught multidisciplinary, visual and contemporary artist. Her works seek to glorify empowered women with an influence of their tribe in all numerous forms as symbolic vestiges of their heritage and also as inexorable forces of their society.