The last 10 years have seen a growing market interest in contemporary African art. From the acclaimed 1:54 art fair to the numerous sold out auctions, the business of African art is thriving and many blue-chip galleries now represent African artists.
Not too long ago, Anyanwu, a wooden sculpture by the Nigerian artist Ben Enwonwu sold at an auction in London for £353,000, more than two times the expected price.
Before that, New World Map, the aluminium and copper sculpture of Ghanaian artist, El Anatsui, sold for £541,250, one of the highest prices ever fetched by the work of an indigenous African artist.
Sales of Contemporary art by English auction houses Sotheby's and Bonham's generated a total of £6.45 million ($8.27 million) in 2018, up 41.6% from 2017.
Western interest in Contemporary African art is at an all time high and with this heightened interest in African art has emerged a new breed of contemporary African artists. These artists range from sculptors to painters, but they have one thing in common: big dreams.
We recently interviewed Asiegbu Collins Uzoh- who studied fine art with a specialization in sculpture- on his business as a sculptor. We spoke about his dreams, his inspiration and the obstacles he faces in displaying and earning from his craft.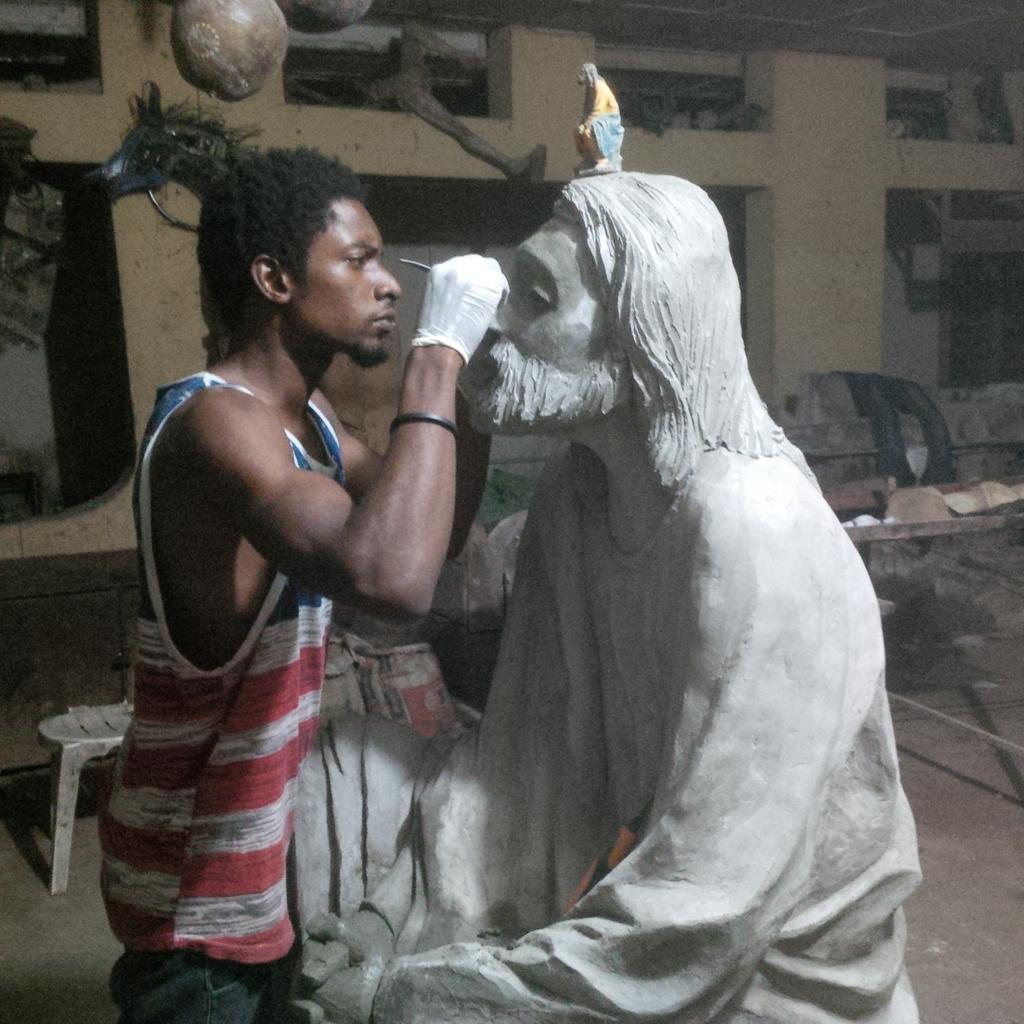 WHEN DID YOU CREATE YOUR FIRST SCULPTURE?
That was way back in school as a 200level fine arts student when I had not specialized. I would stay back in the studio with the final year students and try my hand at one or two things. I was in such a hurry to be as good as them. A buddy in his final year, Otikpa Chisom calmed me down and took me through the process of being a good sculptor, I followed through and it gave birth to a little tabletop sculpture of a woman carrying a basket that almost took forever to make.
WHAT IS THERE TO GAIN FROM MAKING SCULPTURES?
There is a lot to gain from making sculptures. Firstly, for an artist, it is like making an extension of himself for the viewer to appreciate. Sculptures can be used to document a people's period which becomes a tangible asset of history for the future to lean on. Sculpture can be innovative too, but the overall gain for the sculptor is in having an audience that is willing to exchange good cash for the time and creativity invested in every work.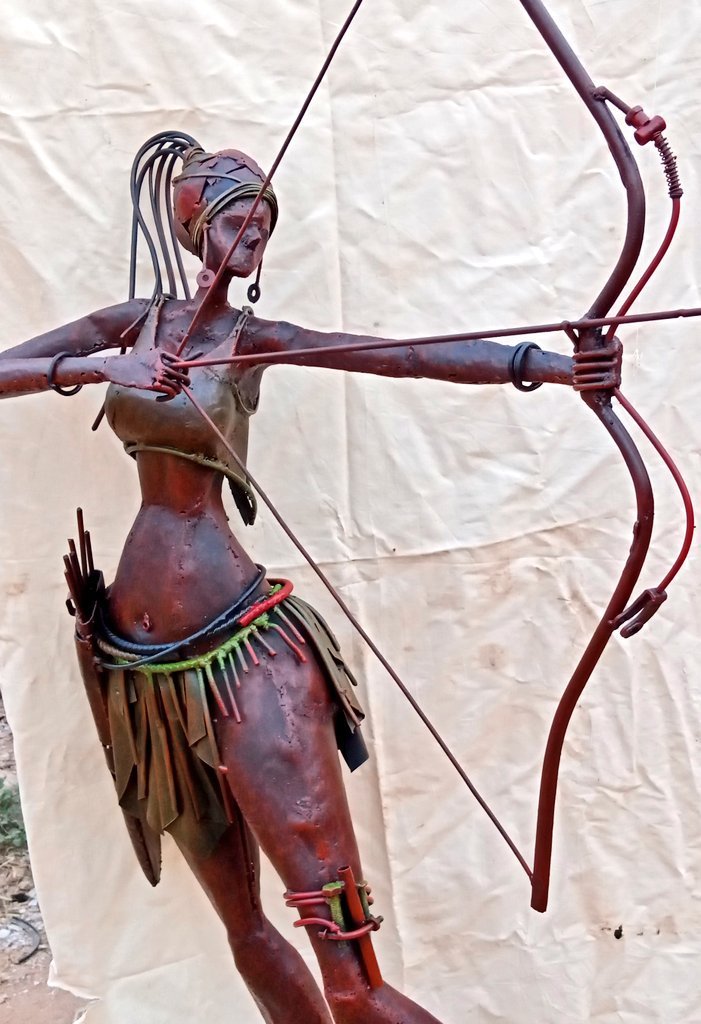 WHAT ARE YOU WORKING ON NOW, AND WHAT ARE YOUR PLANS FOR THE FUTURE?
I'm working on a couple of sculptures, one of which is a commissioned work, a full figure statue. I'm equally working on developing my work rendition though satisfaction cannot really be attained. As a metal sculptor, my rendition is what distinguishes my works from others and I'm quite close to carving a niche for myself. I believe what I'm working on now will set my works apart. I simply have to go through the process of correcting my errors till the rough edges are all smooth.
I want to build my career by attending and getting involved in art exhibitions. It's a good head start for getting my works out there. Having a big studio to my name is equally on the list.
Exhibiting as an upcoming artist, the big market does not just present itself to you, you have to work up the ladder and prove yourself through small exhibitions and those cost money too. But that hasn't stopped me from exhibiting I just participate in the few I can afford.
WHAT OBSTACLES DO YOU FACE IN MAKING AND EXHIBITING YOUR WORKS?
Studio hazards that come with metal fabrication are really an obstacle in the sense that I have to be sure of the efficiency of every studio gear I'm going to be working with for the day to prevent 'stories that touch'. I also have to take extra caution to check and maintain my gears so they don't breakdown completely because standard quality gears are quite expensive to obtain.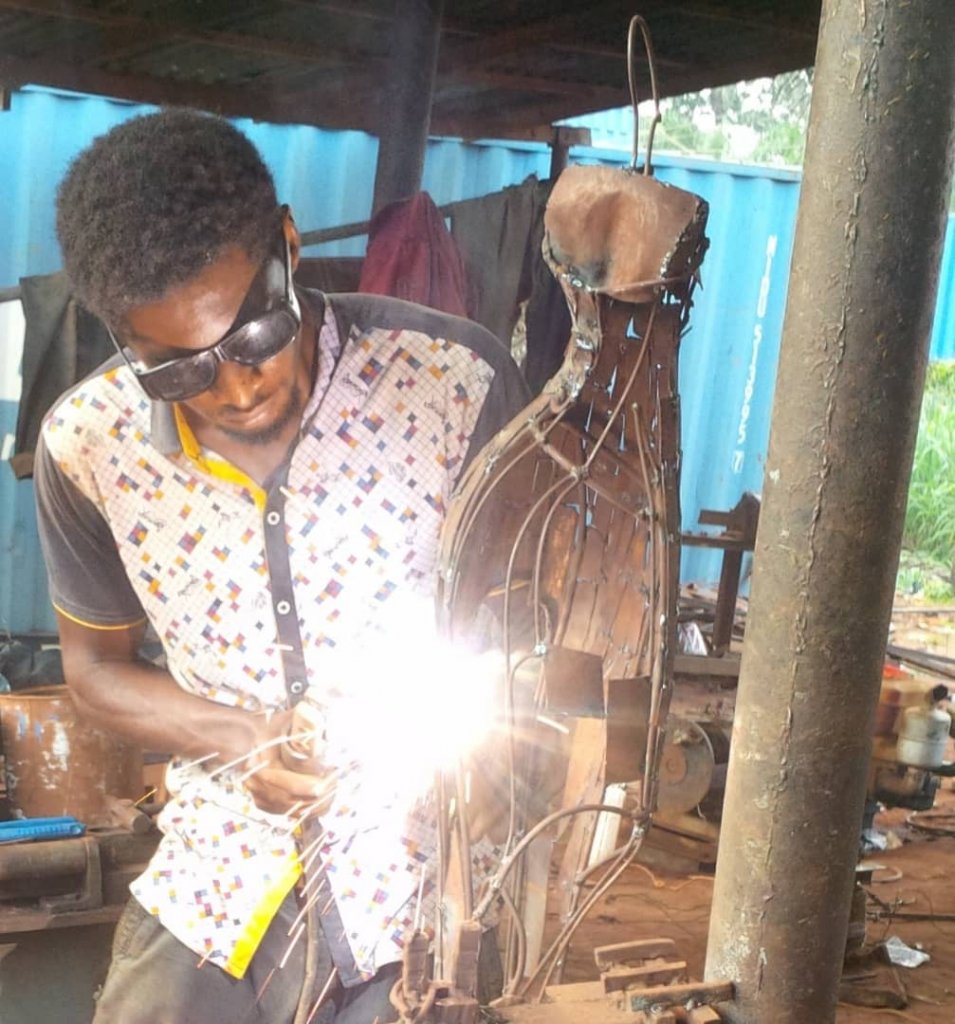 HOW DID YOU LEARN HOW TO WELD AND WHERE DO YOU GET YOUR METAL FROM?
I learnt a little about welding in school from the final year buddies I was always with. After some months I headed for the universal studios of art, Lagos where I did my 6months industrial training and that was where I brushed up my skills in welding.
I basically buy my metal from the market depending on the nature of what kind of work I want to do, I sometimes visit the junkyard.
WHAT IS YOUR FAVORITE SCULPTURE YOU HAVE MADE?
I love all the sculptures I've ever made both the ones made, but I have a thing for this particular sculpture of mine, 'Miss Akimbola' (2017). I really don't know why, but I just love her!
WHAT ARTIST INSPIRES YOU?
Odogwu Fidelis and Dada Adedayo inspire me because I worked directly under them during my industrial training days, they helped set the base on which my career as a metal sculptor stands on. I equally get inspired by the works of artists like Diseye Tantua, Christopher Charbonnel, Agose Patrick and Dotun Popoola.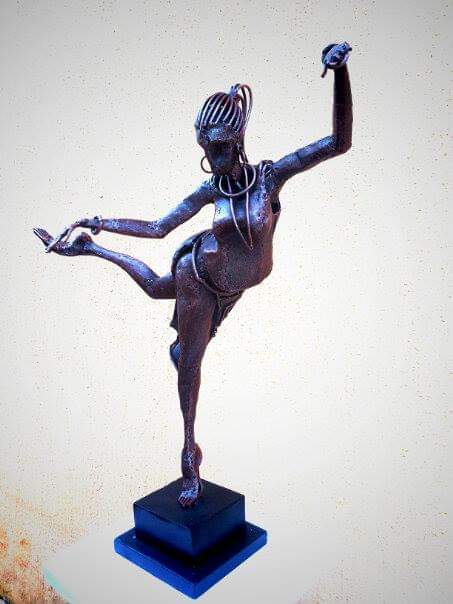 WHAT ARE YOU TRYING YOU COMMUNICATE WITH YOUR ART?
A relation once asked me what course I was studying and I replied 'Fine and applied art'. He replied, "Of what benefit will this course be to you in the future? You should have considered a professional course like engineering and likes of it." Then, I didn't know what to say. But now for every artwork I make, I want to reach out to my audience, to get them inspired by the journey of an artist who did not give up in what he believed in. So every piece of mine carries a non-verbal admonition, "Believe and never give up on it."
You can reach Collins on Twitter @asiegbu_colls