Museums typically create a portal for us to enter another world — a world that once existed or that we're not particularly aware of. Thus, museums trap the minutest details of cultures and histories and enable visitors to transcend into a new place in their minds. So, if you're a curious person like me, you should consider visiting a museum with memorabilia that can connect you to your ancestry or history.
Growing up in Jos city is a fanciful childhood memory I'd love to relive in my next life. My parents, being my parents, allowed us to visit almost all the tourist site attractions in the city before we relocated to Ijebu-Ode, Ogun State, in 2010. There was the Wildlife Park, the two zoos, Shere Hills, and of course, the Jos Museum. It was in the museum that I saw the tusk of an elephant, and a visit to the Wildlife park gave me access to a live elephant – its trumpeting sound so loud one would wonder how the tusk of another elephant lays lifeless in the museum. This was the beginning of a more adventurous life for me.
Relocating back home brought me closer to the stories my father used to tell us about our origin while we were still in Jos. He told us the story of the original settlers and founding fathers of Ijebu-Ode town — Ajebú and Olóde — and how they'd conquered cities to knit their tribes from. My father also found great joy in telling us how Oba Sikiru Adetona, the current Awùjalẹ̀ of Ìjèbú land, is the longest-serving monarch in the country. He would narrate how young Sikiru became King at 27, from when Ifá chose him to when he was called back home from abroad to be crowned as the Awùjalè. It was always a delight to hear these stories of my origin, ancestry, and history. But my father's stories seemed not to be enough for the insatiable thirst I felt. I wanted more, so the search began for museums with unique artefacts and materials connected with the Ìjèbú people.
I searched "museums in Ogun State," and a results list popped up—except one: The Ìjèbú National Museum. However, I saw a paper on ResearchGate published by an archaeologist who had worked in the Awùjalẹ̀'s Palace to excavate some of the artefacts displayed in the museum. I saw pictures of the exterior and interior of the museum and realized that it was a place I already knew. As a matter of fact, I pass by it at least once a week but never knew it was a museum, talk more of being a place that could help me retrace my ancestry. My discovery led me to explore the museum with a few friends.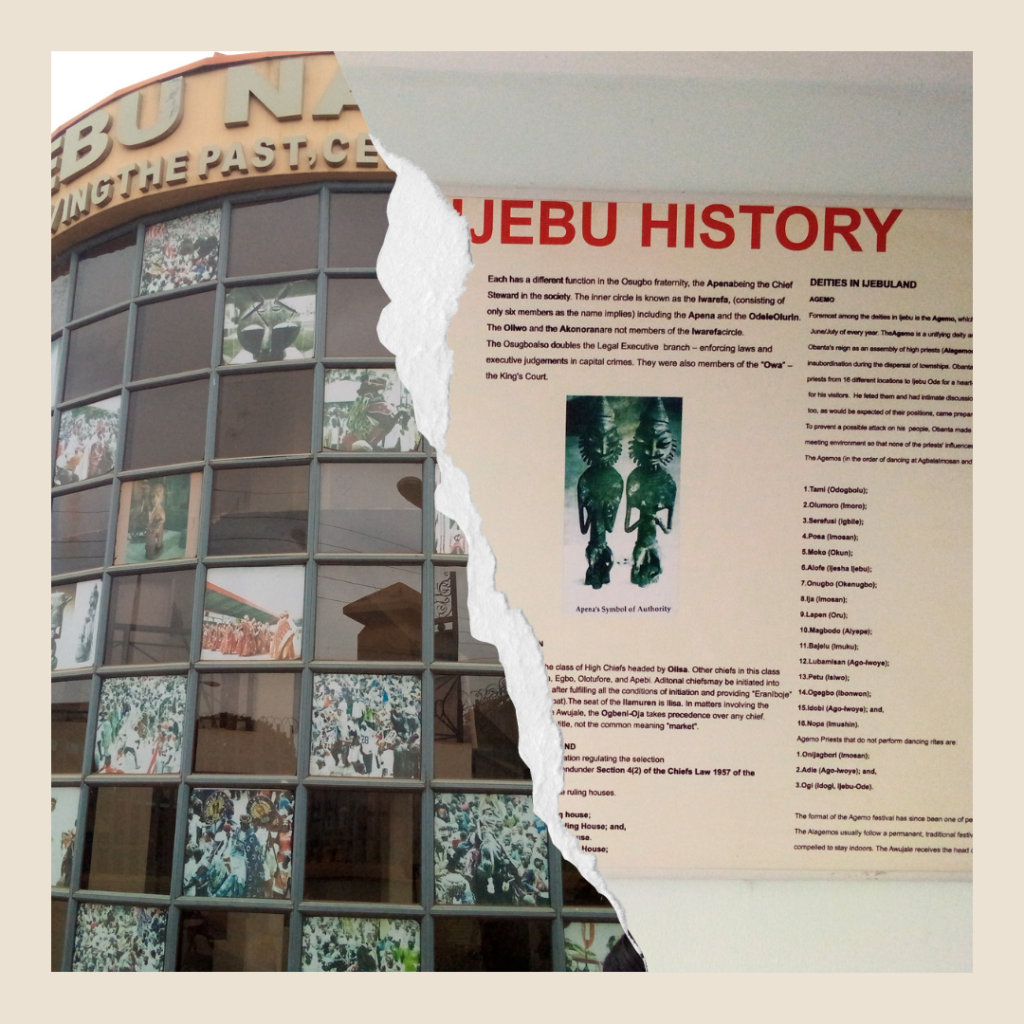 How Museums Are Keeping Us Connected With History
According to New Jersey Maritime Museum, "two types of people will visit museums in search of information on cultures: People with that heritage, and people interested in learning about that heritage who come from a different background."
Take my visit to the Ìjèbú National Museum as an example. At the museum, I saw the careful documentation and preservation of artefacts linked with the Ìjèbú people. The story of Ajebú and Olóde, often told me by my father, became more real as the tour guide showed us a map and narrated the events that led to the creation of the Ìjèbú kingdom. There were pictures of the Obanta and the Agemo statue, which many people usually don't pay attention to. Still, when the tour guide expertly talked about these cultural elements, I marvelled at my ancestry—the intricacies and uniqueness of it.
There was a statue of Awùjalẹ̀ inside the museum and several other bronze bust casts of him. For the average Ìjèbú person who has never seen the King in their whole lives, this adorned statue served as a beautiful alternative to meeting the King and peering into his royal eyes. There was another section of the museum that displayed all Awùjalẹ̀s of Ìjèbú land from the 1800s till date. I even discovered that there had been periods when women ruled the land. Clearly, museums help us relive our ancestors' experiences in an ephemeral way.
When I returned home from exploring the Ìjèbú National Museum with pictures, my parents were surprised to discover that such a rich place exists in Ijebu-Ode town. How do people not know about it?
For centuries, museums have served as the link between our ancestors and us; they play an integral role in preserving history. In Marcus Garvey's words, "a people without the knowledge of their past history, origin and culture is like a tree without roots." So what better time than now to seek firsthand knowledge about your story, heritage, and history through a museum visit? Knowing your roots could help you blossom more, no doubt. But, ultimately, beyond connecting with your roots, visiting museums could help you understand a local place's cultural background because they display perspectives, timelines, and histories you may never have heard before.