Album art has become a core concept in music culture in Nigeria. Music artists now show us their thought processes not just with their music, but with their album covers as well. In this article, we look at Hip-hop artist and Afrobeat sensation Davido's album covers through the years.
Omo Baba Olowo
Originator of the now widely used and trending urban slang "E Choke!" Nigerian Afrobeat and Hip-hop artist, Davido full name David Adedeji Adeleke has always been single minded about his intentions to be ranked amongst the best in music globally. This he again has proven with his appearance in the remake of the renowned classic movie "Coming to America". His quest for excellence and originality has also always been reflected in the cover art of his three albums. In his 17 tracked debut album "Omo Baba Olowo" which had his hit single Dami Duro and a collaboration with top Nigerian musician 2Baba. Davido with the album title and picture explored his identity as a rich kid. The album showed him dressed in a black hat tilted backwards, dark shades and blings which was the typical swag of young rich kids.
The Baddest & Son of Mercy
In 2015, Davido was scheduled to release an album which for certain logistical reasons fell through. The album was proposed to be titled "The Baddest". Shortly after the album fell through, in 2016 Davido signed a record deal with Sony Music. Later in 2016, he released a 5 tracked extended playlist titled Son of Mercy which included his hit track Gbage Oshi and collaborations with such artists as Simi and Nasty C. Unlike his debut album, the album art for his 2016 extended playlist shows Davido in what seems like a ray of light with colors similar to that of the Nigerian flag which could be symbolic for Davido shinning the spotlight on Nigeria with his music.
A Good Time
The album art for his second album in 2019 titled "A good time" is a painting of him literally having a good time with kith and kin. Unlike his debut album, Davido explores his identity here not just as an individual, but as a member of other units of society. The album cover and tittle resonates well with the feel good vibe of the 17 tracked album which had several hit singles including Assurance, Risky, Sweet in the Middle amongst others.
A significant mention about the album was his collaboration with American artist Chris Brown on the track Blow my Mind
A Better Time
His most recent album released in 2020 titled "A better time" which is a sequel to his 2019 album A Good Time, has as its album cover Davido with new born son. Here Davido seem to be exploring his identity as a father. The album cover helps us observe Davido's evolution from Omo Baba Olowo in 2012, to A Good Time in 2019 and A Better Time in 2020. With all that happened in the year 2020, the album cover and album title helped give hope to his listeners. Hope symbolized with the birth of a newborn, that better times lie ahead of us. The 17 tracked album became an instant rave with previously released hit single Fem and several international features with Nicki Minaj and a collaboration with Chris Brown as well other Nigerian artists like Tiwa Svage, Mayorkun, Ckay, Bella Schumda and Sauti Sol.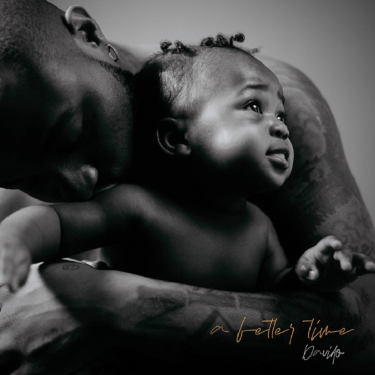 With all that Davido has served us thus far, we can only look forward to more inspiring art from Davido, album art and music-wise.