Those who tell you "Do not put too much politics in your heart" are not being honest. If you look very carefully, you will see that they are the same people who are quite happy with the situation as it is…What they are saying is do not disrupt the system.
–Chinua Achebe.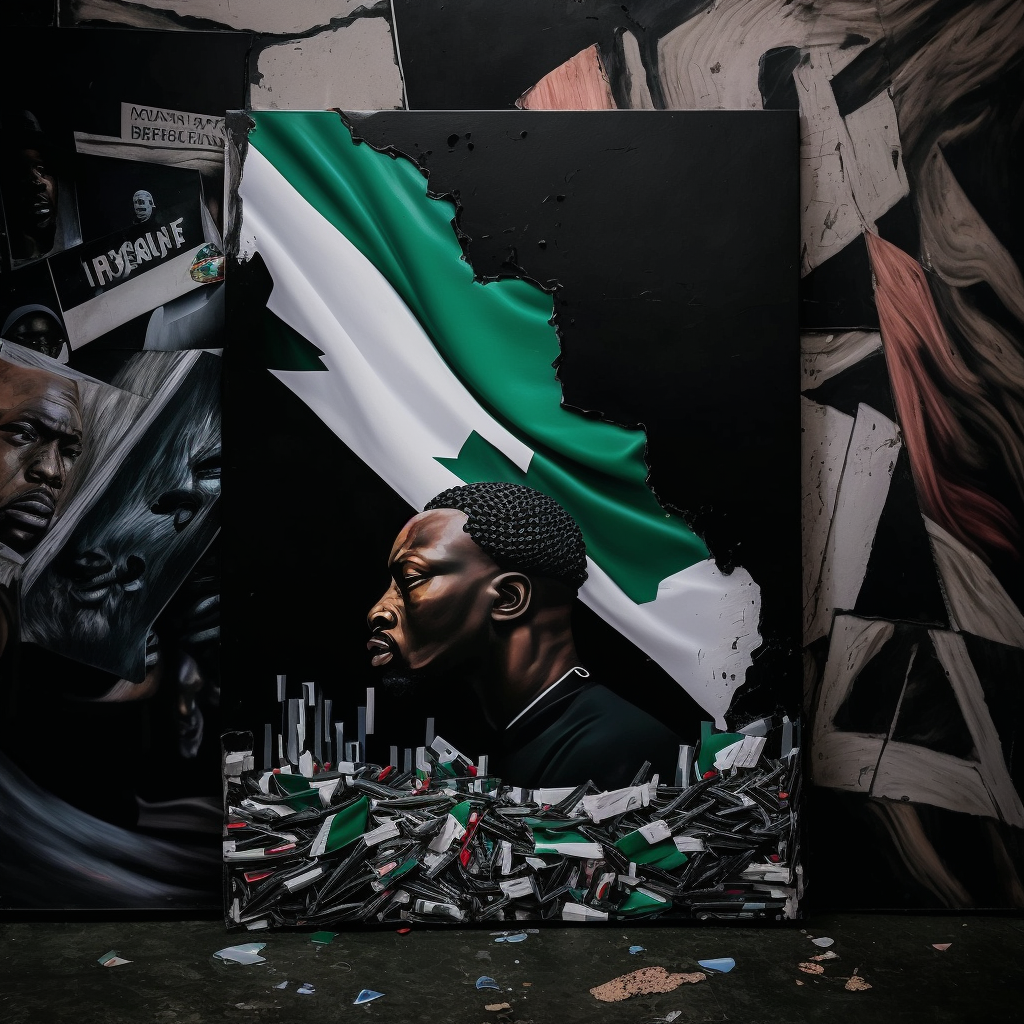 When I think of art, I think of a weapon. I imagine the transformation of our emotions into a tangible form that can be seen, touched, heard, and even felt. Art is an arm artists use to express their emotions, but they do not only express their feelings; they can also affect change through their work. Art continues to be a powerful tool for preservation, reformation and restoration when used effectively. To show what is hidden, to reveal the truth and act as an agent of change. To be clear, it is not in every case that art is used to cause a change for good. It has sometimes been used to advance propaganda of the ill structures that already exist in the community.
Artists in Nigeria continue to be daring in using their art to engage in political occurrences in their country.
Over the years, we have witnessed artists who have used their works, either in photography or painting, to preserve the truth. The likes of Peju Alatise, Jerry Buhari, Omoregie Osakpolor, Obinna Makata, Ikenna Ogbenta, Victor Ehikhamenor, Ben Enwonwu, Bruce Onobrakpeya, Enotie Ogbebor, amongst many others, have played a part in preserving the memories of events that have happened in the country, keeping an objective eye while acting as either a social or political participant in the development of the country.
Some of these artists are daring in their take on the political regimes in Nigeria. Take, for example, Dipo Onabanjo, who worked as a photojournalist, risking his life covering the coups in Nigeria. Also, we find a daring artist in Obinna Makata, who exhibited his work 'A basket full of blood' in 2016. This work points to the disillusionment in the social-political sphere in the wake of the country's current political climate. Makata's work of art illustrates the government's inability to combat issues of terrorism, which has continued to be a source of great affliction to the citizens of the country.
Artists around Nigeria are actively participating in the revolutionary activities going around the country. Either they are singing about it, capturing the moment with the camera or painting it from memory or, better still, expressing the state of the country through their brushes.
During the Covid year, a major catastrophe around the world, Nigeria experienced one of the biggest demonstrations that can be said to have happened since independence. The protest, popularly known as the "End Sars Protest", was a fight against police brutality, which ended with people being repeatedly shot at, according to credible reports, yet the government denied and has refused to bring the perpetrators to book. The event had many photographers present, documenting this event that registered a sense of solidarity, hope and freedom from political and social oppression.
Performing arts was not left behind as we saw numerous prominent artists lend their voices to the protest calling for the reclamation of our country. The protest, which ended on the 20th of October 2020 at the Lekki toll gate, leaves a lasting impact on the memory of Nigerian citizens. The likes of Promise Dominic Obada used dance as an act of protest in different parts of Lagos, showing their solidarity in the struggle. Also, local and nationally renowned artists used the platform to address society's ills.
Thanks to documentation through art, in addition to historical accounts, written records, and oral traditions, we can somewhat experience the Aba women's riot of 1929, which happened almost a century ago. The trooping of tens of resilient, scantily clad or nude women engaged in a highly charged protest dance played a role in challenging the colonial government's policies in southeastern Nigeria.
During a conversation with photographer and artist Omoregie Osakpolor, he explained that his role as an artist involves participating in the political change of his country by documenting significant events and preserving them for future generations. He emphasized that art has a role in shaping political revolution and is crucial in altering the narrative of our stories for the better.
Most art bears political context, particularly in times of social transformation, protest and crisis. However, not all art is politically motivated, and not all artists see their art as part of a political system. But it is important that there are artists who rise to the occasion to preserve memories of their country's political evolution.
Finally, it is obvious that a revolution is sweeping across Nigeria and the world at large. Individuals are actively participating in change movements worldwide, either by being at the forefront or supporting the movement. In the words of Gil Scott-Heron, "You will not be able to stay home, brother; You will not be able to lose yourself on skag and skip out for beer during commercials because the revolution will not be televised!" For many, this is a true depiction of the recent happenings in Nigeria, and artists are active at the forefront, documenting these events live!
Ejiro Elizabeth Edward is a lover of the arts. She won the Antoa poetry contest 2021 and the Ken Saro Wiwa Prize for Review 2022. She is a two-time Pushcart Prize nominee and has been published in magazines such as Hoax, Reckoning, and Lolwe. She is the convener of the Benin Art and Book Festival. She looks forward to pursuing a MFA degree. Twitter: @Ejiroedward552