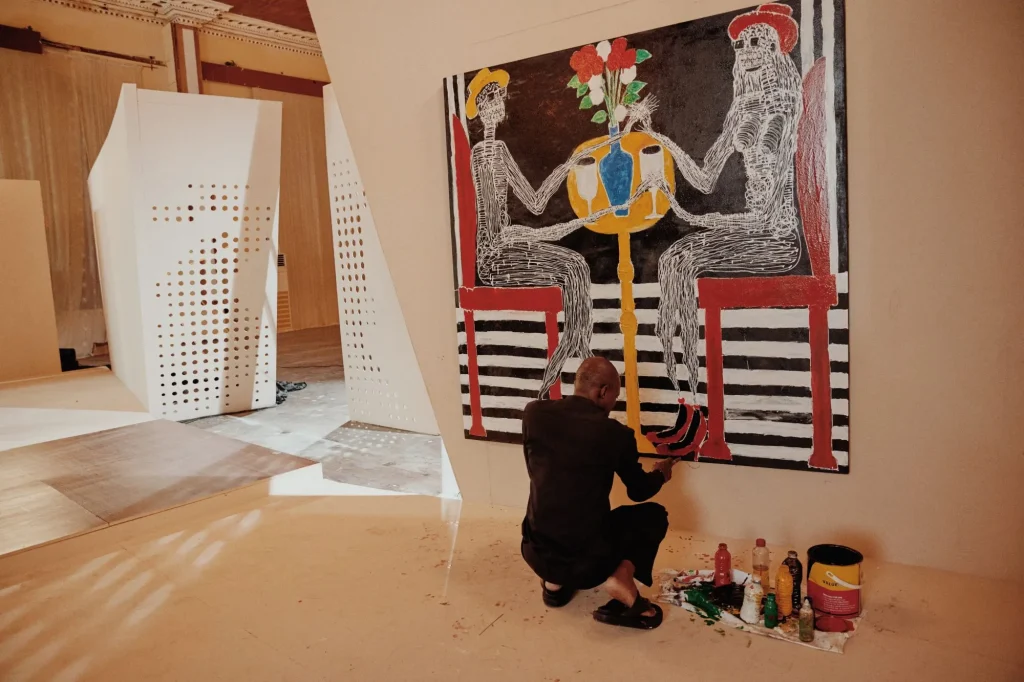 As part of his upcoming album, popular hit-maker, Mr. Eazi is collaborating with the best African visual artists to bring new ideas to life in the art industry. 
According to the visual artists, Mr. Eazi is working with contemporary art creators to prepare an important presentation alongside his next debut. Each piece of art will be presented alongside each song on the album. In addition, the arts will be tokenized and shown to the public at physical events and through a specially curated metaverse.
Eazi is one of the most popular and celebrated artists in Nigeria. He has been honored globally in his career, such as the recognition for creating Banku Music (a combination of Ghanaian highlife and Nigerian chord percussion), winning the Latin Grammy, and being nominated for the BET awards. He has been featured by foreign and global performers like megastars like J. Calvin, Beyonce, Bad Bunny, Major Lazer, and Nicki Minaj, and top Nigerian artists like Burna Boy.
Eazi has been active in the art scenes before now. He said the idea for this new collaboration came two years ago when he visited the Noldor Artist Residency in 2020. It was the first time Ghana would organize an independent artist residency and fellowship program. Before that, he launched a program called emPawa Africa, a medium to empower and support upcoming African artists.
Eazi said there are similarities between being a musician and an artist. "I started to see the similarities between the music space and the art space in terms of the business model my company emPawa does … [which] finds artists, musicians and works with them, nurtures them and their careers, and gives them the opportunities to break into the world," he said.
The idea to work with artists persisted after the Noldor Artist residency event. "The more I thought about this and started to record my album, the more I started to think of a way that I could capture the essence of my music," Eazi said. "I just was thinking how do I tell this story in every way? I wanted to tell the story in the music. I wanted to tell the story in the video. I want to tell the story in every way possible," he continued.
So Eazi thought of collaborating with artists around the country where he has recorded the songs on his next album. Currently, he is building emPawa Africa, emPawa Distribution, a digital music aggregator, and other ventures.
The first artist-singer collaboration on Eazi's next album has been created and is available to watch. Patricore, a Beninese painter, painted it. He did it live during the song's debut performance at a private concert in Lagos. Before then, the painter met Eazi at Cotonou, the capital of Benin, while the singer was recording the album. The title of the song is "Legalize." 
Source: ArtNews