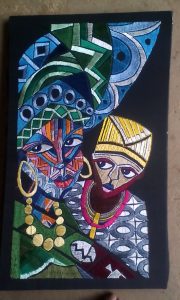 WORK DESCRIPTION
Title- Africa beauty
Size- 2.5/1.5 ft
Year- 2015
Medium- Embroidery

True African beauty is about taking pride in your own body.

In Africa, the big phenomenon is about being curvaceous, thus implying your sensuality as a woman.

Also, African beauty is captured through the ethnic traditions that emphasize how one should embrace the human form with body adornment and ornamentation used, like the traditional beads, gele, and fila which bring out the beauty of the African woman and the men.

The two motif used- cowrie which symbolises wealth and the comb which means unity, both work together to show African beauty.
About AYANTORO FRANCIS BOLAJI
He was born in Oyo state, Nigeria. He obtained a national diploma in General Arts from Yaba College Of Technology, Yaba, Lagos State in 2010. Graduated from Obafemi Awolowo University in 2016, where he studied fine art 2016 and specialised in textile.

For him, Art is life, educative and informative. Without art, life is meaningless.